What is the issue with google reviews?
After observing several posts on the Google Business Profile Community Help Forum, Mike Blumenthal broke the news about the possible bug over the weekend.

Tweet About google reviews issue.
Mike Blumenthal wrote on twitter ' Found more cases of lost Google GPB reviews: They had shortened the business name…& changed my website information to a different link that also went to my website. I realized all 105 of the reviews had VANISHED!'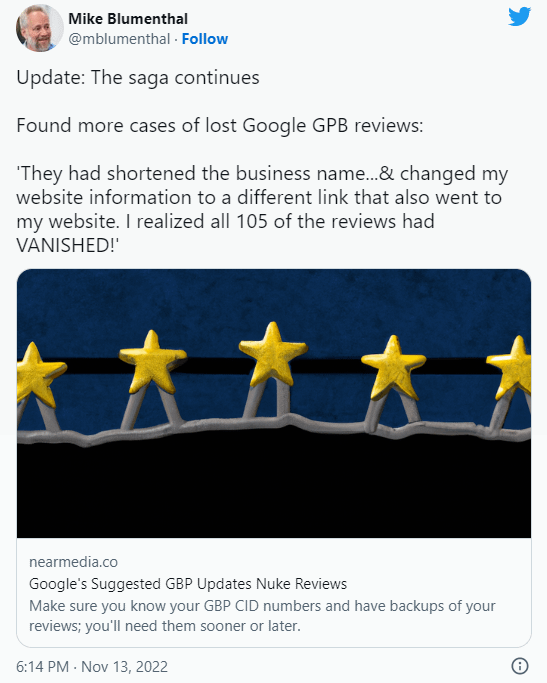 In another tweet on Nov 15, 2022 he said 'This bug seems serious & was reported to your team on 11/8
We still have no word as to how to handle it, what the business should do
I had business calling me at home on Sunday literally crying in the phone over their lost business
Advice?'

Google response on Google Reviews disappearing
In reply Google SearchLiaison wrote on twitter ' Our apologies here. The team is aware of this bug and has been actively addressing it. Many reviews have been restored, and that work will continue.'

What we can do on Google Reviews disappearing
Well now we all knew that it was the bug that google reviews were disappearing so no need to worry it is a google bug and reviews are restoring as well. Moreover, there is no specific time suggested yet how long it will take to resolve the bug and restore the reviews.